We are getting closer to the undisclosed date and time of our post-equinox and pre-solstice gathering. At an undisclosed location, of course. I won't be teaching anything this time, we will all be able to work on whatever we want and enjoy peering over each other's shoulders.
The good news is.....the shield earrrings are a hit! The big ones! Who knew? Well, Bonani knew but still....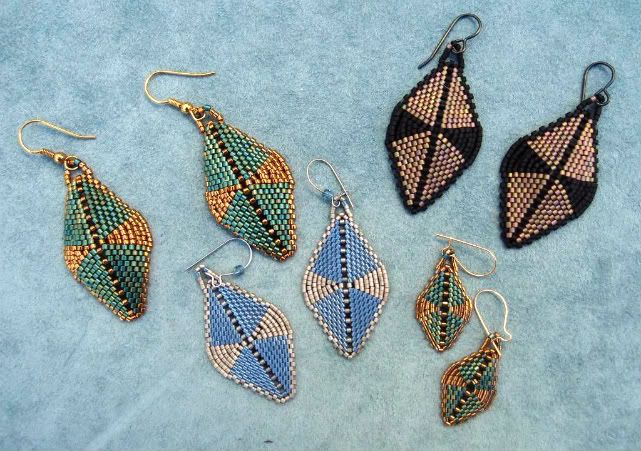 More good news - they are easy to make, work up fairly quickly. They can easily be made smaller just by eliminating rows. The big green and gold ones are made with size 11 cylinder beads as is the black and tan one. The blue and silver one is made with size 15 cylinder beads (get out your best magifying glasses!) and the little green one is made with size 15 cylinder beads but using only half of the rows.
The little red one below is made of size 15 round seed beads. Not so sure I like it with round seed beads but would like to make one with size 11 seed beads to see what it looks like. I think the use of matching nymo or fireline would be best if using round seeds.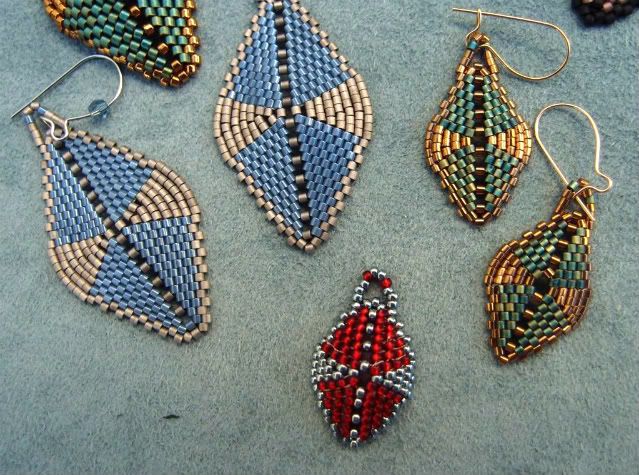 The bad news? The big green pair and the black and tan pair have been chosen for their forever home already! Lori (of Doggie Styles - waves at Lori!) chose the green ones after making Rocky and Mini all clean and neat and smelling nice this afternoon. My mail lady, Dori, a wonderful wonderful mail lady, chose the black and tan ones as she cruised by to drop off the mail today.
So I think I will need to make some more so this is what I will be making at our equinox/solstice/silly gathering. If you want to bring some beads and the pattern you can make them along with me. It isn't hard once you know how to do it - but that applies to everything, huh?
Bead on!