Beading with the Beady-Eyed Bunch was wonderful today. It was wonderful of Peggy to host the Vernal Equinox beading group. Very very good to see everyone and laugh and enjoy each other's company. Very good. It has been too long.
It is going to take me some time to sort out the pictures to post here but I wanted to post these this evening. Last year in June Deb, Bob, and I harvested cactus off of the AZ desert. We planted them in the window at work in July and I hadn't seen them since I left the unit in the middle of August. Today I found two of the pots at Peggy's - they were all grown up and having babies of their own!
This picture is from last July when we were planting - these are all Paper Cactus and Pine Cone Cactus:
And a close up:
Here they are all moved into Peggy's home and growing happily: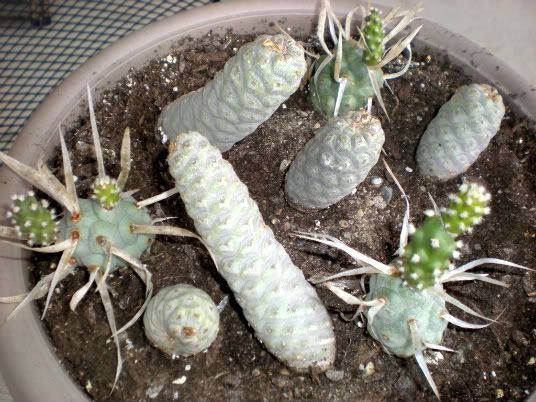 Safe travels and safety to Drew - he is off to Haiti tomorrow as a pastor.
Best wishes and prayers to Phyllis as she will have surgery on Monday.
Safe travels to Madeleine as she left from our beading group to travel to IL to take care of family business.